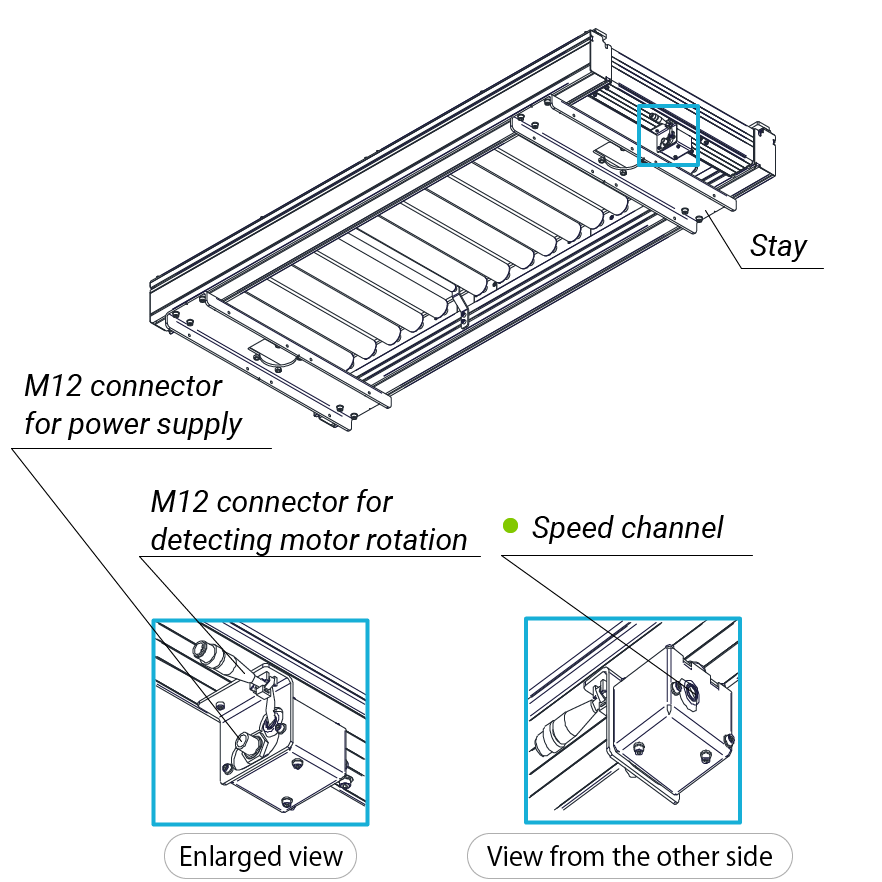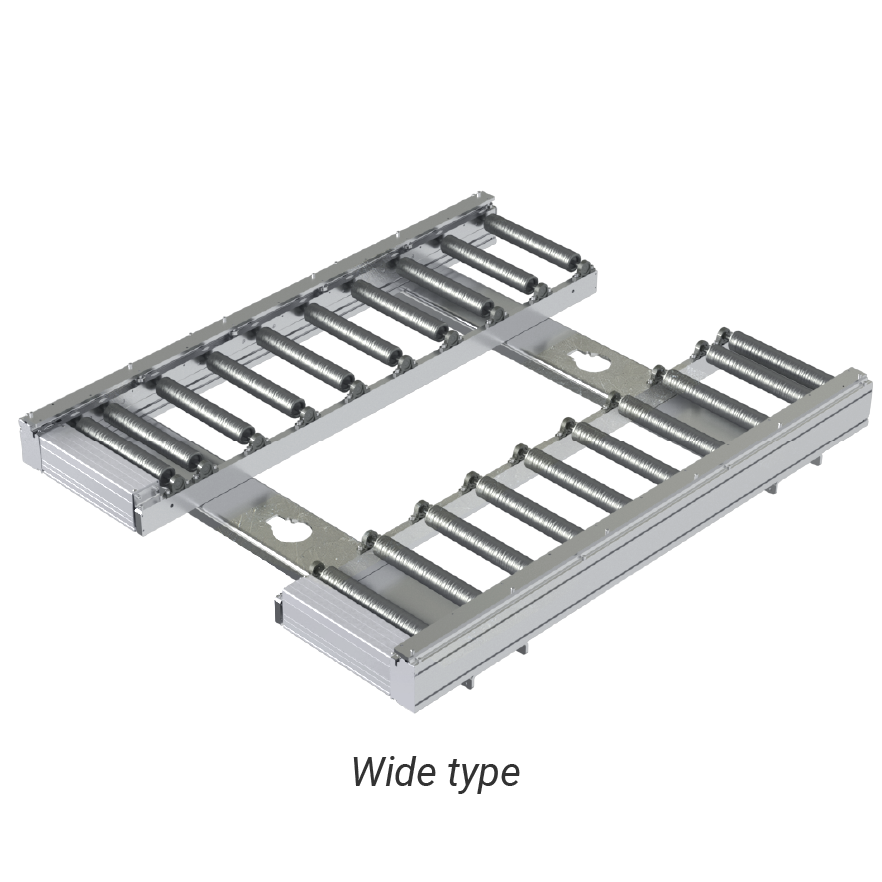 EcoElectric DC Roller Conveyor
ECV50C-RC
Capable of transferring container boxes, carton boxes, and irregular-shaped objects such as pallets with large notches on the side.
---
Compact and maintainable friction roller conveyor with a drive unit built in the frame.
---
Proven track record for production lines in the car industry where operators assemble parts while products are running.
---
EcoElectric DC Conveyor includes all drive units such as dedicated motors, control panels, and speed channel [CH], with a guide rail equipped as standard feature to support stable conveyance.
---
[Relevant Product]
EcoElectric DC Conveyor [ECV50C]: Friction conveyor for pallet transfer.
View more
Main unit
Standard conveyor width [W]
624 mm
Standard conveyor length [L]
590 mm / 740 mm / 890 mm
1,040 mm / 1,190 mm / 1,340 mm
1,490 mm / 1,640 mm / 1,790 mm
1,940 mm / 2,090 mm / 2,240 mm
2,390 mm / 2,540 mm / 2,690 mm
2,840 mm / 2,990 mm / 3,140 mm
3,290 mm / 3,440 mm / 3,590 mm
3,740 mm / 3,890 mm / 4,040 mm
4,190 mm
Conveyor height [H]
201 mm
Standard width between guides
510 mm
Transfer Weight
(Reference)
(*1)
100 kg or less
Length of Transferred Object
250 mm or more to flow direction
Number of Items Carried (Reference)
(*1)
max. 15 items
Transfer Speed
(Reference)
(*1)
12 m/min or less
Roller size
transport roller: φ50.8mm
pinch roller: φ19.1mm
Roller pitch
82.5 mm or less
(*1) The transfer weight, the number of the items carried per drive, and the transfer speed vary depending on the condition.
Power source
Model
Motor module: HGMPU-5035
(HIRATA BLUE MOTOR is built in.)
Voltage rating
24VDC ± 10%
Motor capacity
50 W
Current rating
2.2 A (rms)
Maximum current
6.0 A (rms)(typ.)
Instantaneous maximum current
8.0 A (peak)
Connector specs.
M12 connector (male)
4 pins:
(1) -
(2) 24V [CCW (BWD)]
(3) 0 V
(4) 24V [CW (FWD)]
Safety Precautions
Please perform risk assessment before use to determine the guarding requirement as it depends on specs and environment of the end user.
Components (top view)

Pinch rollers will be allocated to areas with no roller units due to conveyor length adjustment (no drive unit).

Components (bottom view)
Two-speed control

By installing a sensor, the conveyor can be controlled to decelerate in the middle of conveyance and stop gently.
(The above figure shows an example of transferring to FWD direction.)

Speed channel [CH]

Operation speed can be changed by adjusting the rotary switch at the bottom of the drive unit using a screwdriver (nine levels between CH1 and CH9).
Wide type

For transferring plastic pallets and other objects.

Wide pitch type

Wider pitch type is available depending on the application.
Inquiry
Check this out to inquire later.
Contact
For more information, please contact us.