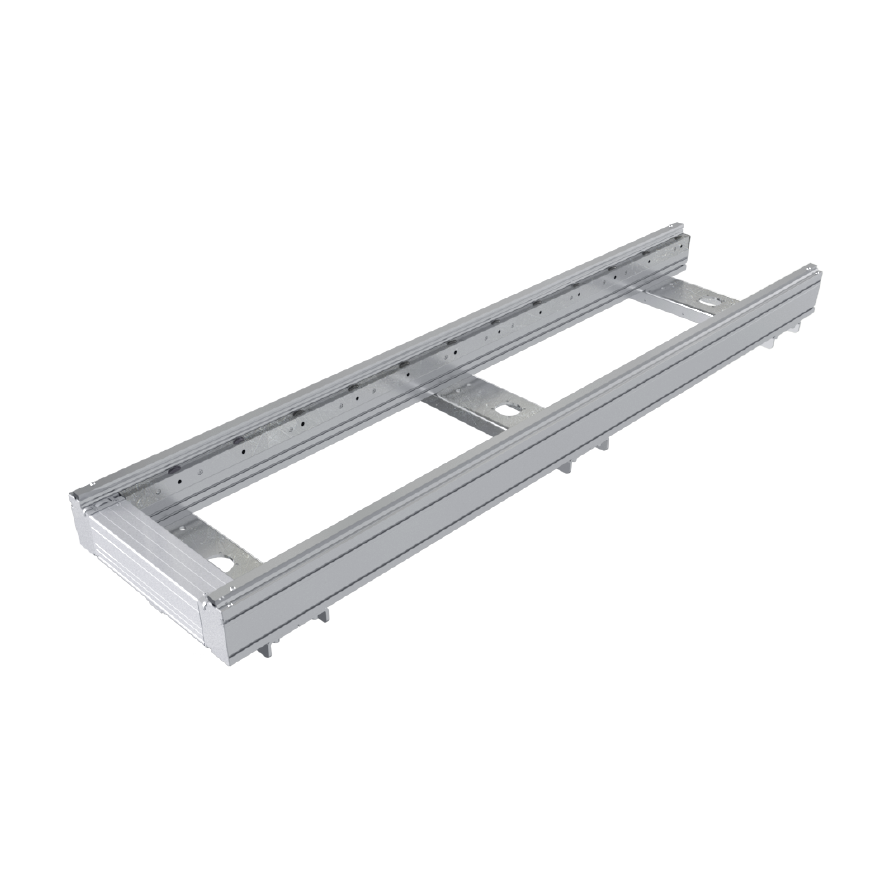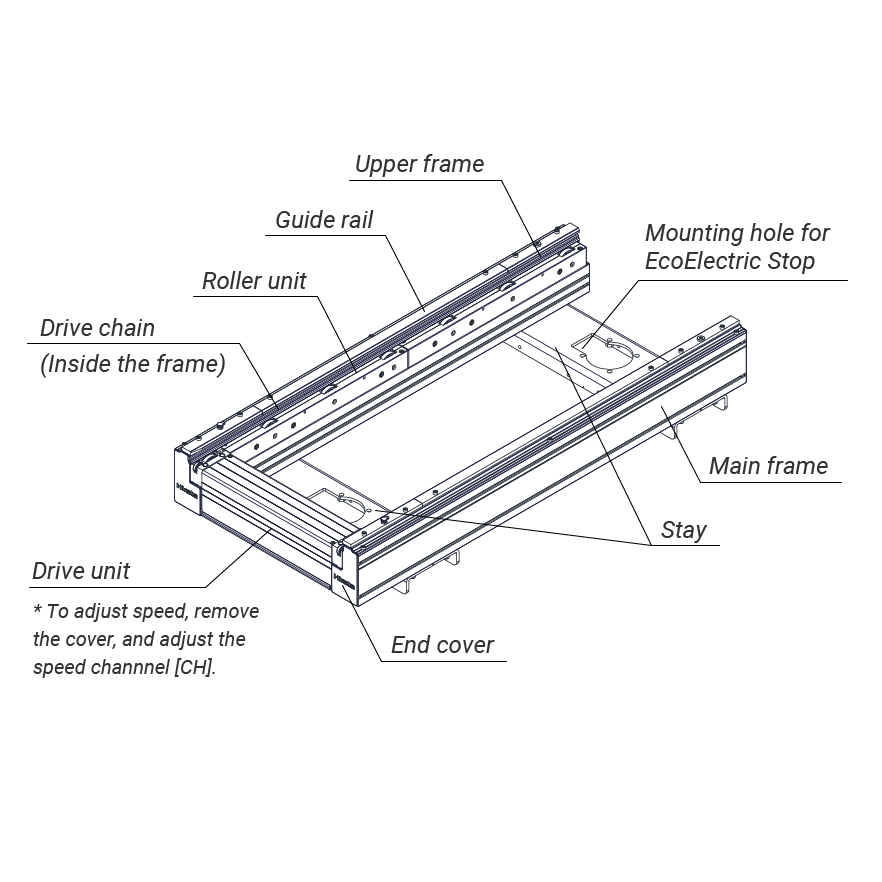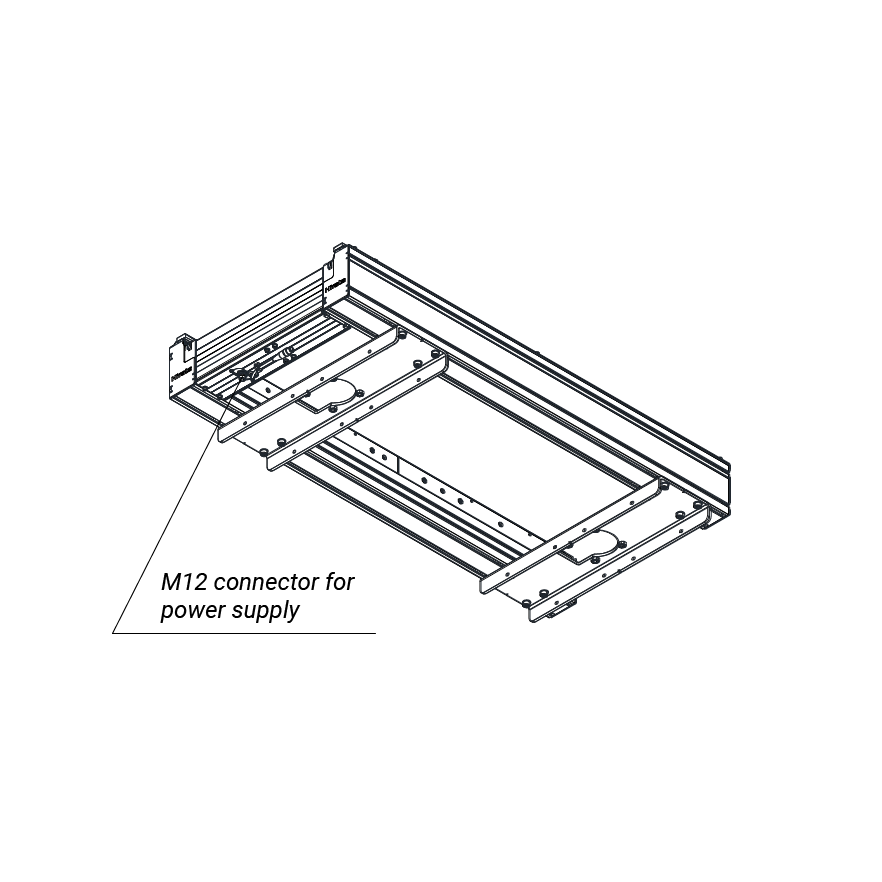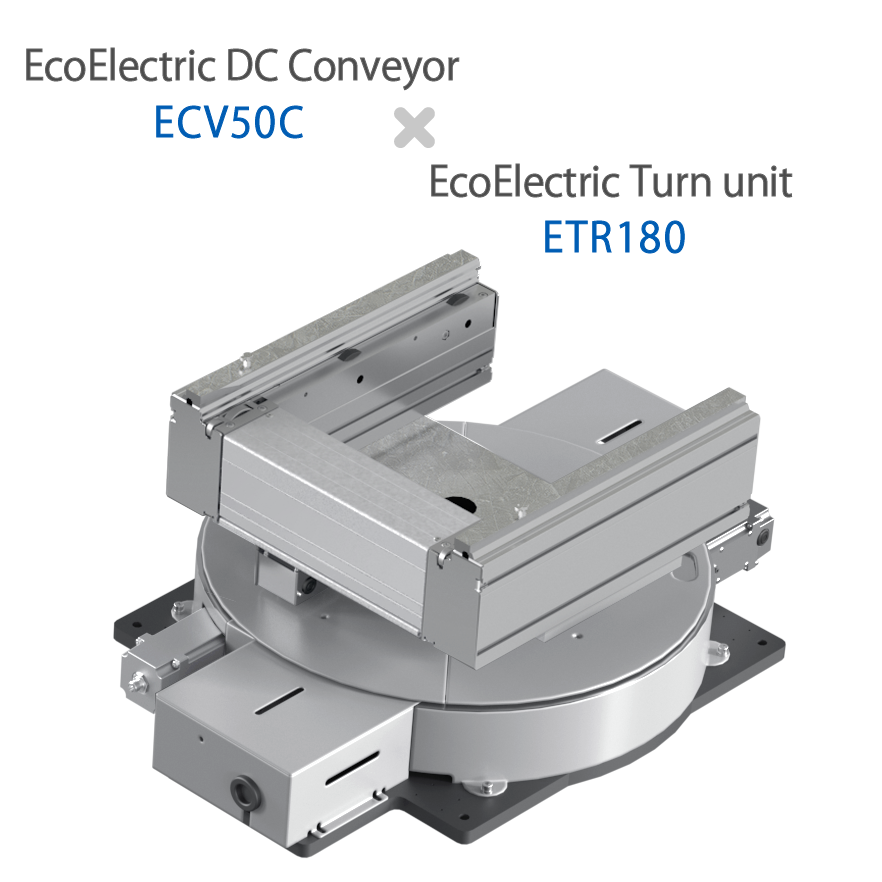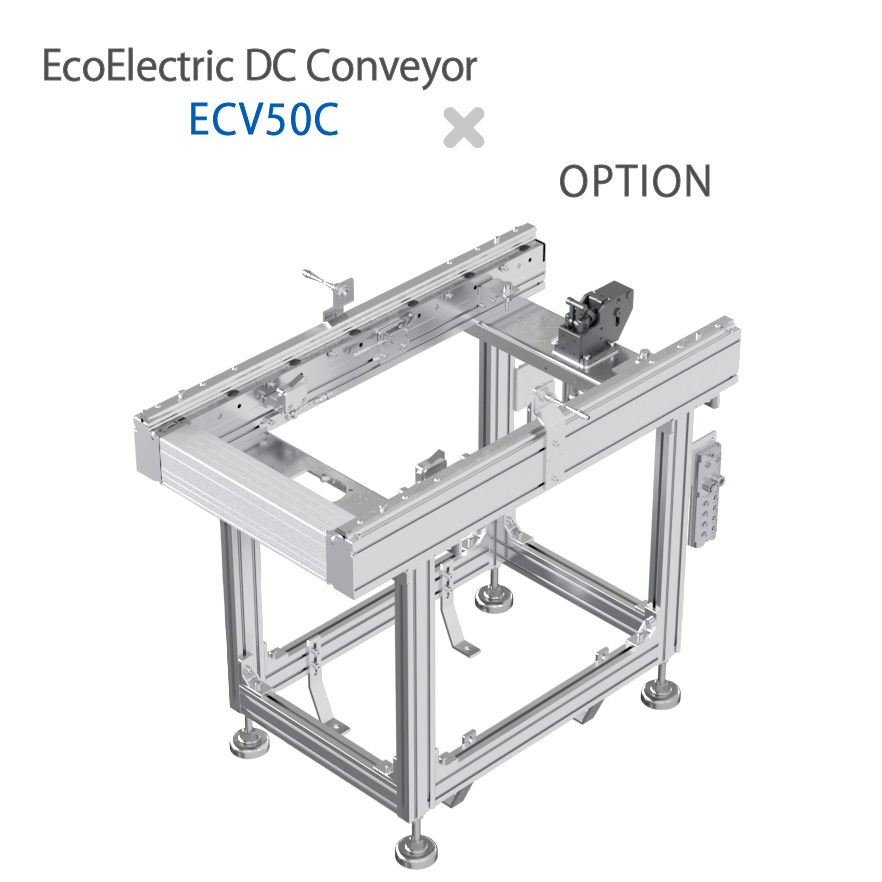 EcoElectric DC Conveyor
ECV50C Standard
Compact and maintainable friction conveyor with a drive unit built in the frame.
---
Proven track record for production lines in the car industry where operators assemble parts while products are running.
---
EcoElectric DC Conveyor includes all drive units such as dedicated motors, control panels, and speed channel [CH], with a guide rail equipped as standard feature to support stable conveyance.
---
Wide-ranging options with dedicated design.
---
[Relevant Product]
EcoElectric DC Roller Conveyor [ECV50C-RC]
Transports objects with various shapes including container boxes and carton boxes.
View more
Main Unit Specs.
Standard pallet width (*1)
300 mm / 400 mm / 500 mm
Standard pallet length
300 mm or more to flow direction
Standard conveyor width [W]
Pallet width + 89 mm
Standard conveyor length [L] (*2)
590 mm / 740 mm / 890 mm
1,040 mm / 1,190 mm / 1,340 mm
1,490 mm / 1,640 mm / 1,790 mm
1,940 mm / 2,090 mm / 2,240 mm
2,390 mm / 2,540 mm / 2,690 mm
2,840 mm / 2,990 mm / 3,140 mm
3,290 mm / 3,440 mm / 3,590 mm
3,740 mm / 3,890 mm / 4,040 mm
4,190 mm
Conveyor height [H]
183 mm (including stay)
213.7 mm (when pallet width is 300 mm)
Roller size
φ50 mm x 10 mm
Roller pitch
158.5 mm or less
Pallet accumulation capacity (*3)
up to 6 pallets
External controller
Not required.
(*1,2) Contact us for the pallet width and conveyor length not listed above.
(*3) The number of pallets that can stay on the conveyor varies depending on the combination of the selected pallet weight pattern [PW] and the set speed with the Speed channel [CH].
Power Source Specs.
Model
Motor module: HGMPU-5020
(HIRATA BLUE MOTOR is built in.)
Motor capacity
50 W
Voltage rating
24VDC ± 10%
Current rating
2.2 A (rms)
Maximum current
6.0 A (rms) (typ.)
Instantaneous maximum current
8.0 A (peak)
Connector specs.
M12 connnector (male)
4 pins:
(1) -
(2) 24 V [CCW (BWD)]
(3) 0 V
(4) 24 V [CW (FWD)]
Pallet Weight Pattern (PW) and the Transferable Weight per Pallet (*4)

| | |
| --- | --- |
| PW1 | 5 - 30 kg |
| PW2 | 10 - 50 kg |
| PW3 | 30 - 100 kg |
| PW4 | 50 - 180 kg |
| PW5 | 100 - 280 kg |
(*4) The transferable weight per pallet including a transferring object varies depending on the selected pallet weight pattern. The pallet cannot be transfered when the weight is out of the above range.
Speed Channel [CH] and Corresponding Transfer Speed (*5, 6)

| | |
| --- | --- |
| CH2 | 6.8 m/min |
| CH3 | 9.0 m/min |
| CH4 | 11.3 m/min |
| CH5 | 13.5 m/min |
| CH6 | 15.8 m/min |
| CH7 | 18.0 m/min |
| CH8 | 22. 5 m/min |
(*5) Although the speed for both FWD (flow direction) and BWD is adjustable at nine levels using the speed channel, Hirata recommends to set the speed between CH2 and CH8.
(*6) The transferable speed varies depending on the combination of the selected pallet weight pattern (PW) and the number of the pallets staying on the conveyor.
Safety Precautions
Please perform risk assessment before use to determine the guarding requirement as it depends on specs and environment of the end user.
Components (top view)

Components (bottom view)

The above figure shows the case of applicable pallet widths of 400 mm / 500 mm.
Two-speed control

By installing a sensor, the conveyor can be controlled to decelerate in the middle of conveyance and stop gently.
(The above figure shows an example of transferring to FWD direction.)

Speed channel [CH]

Operation speed can be changed by adjusting the rotary switch within the drive unit using a screwdriver (seven levels between CH2 and CH8).
EcoElectric Traverser

By sliding workpiece in combination with EcoElectric traverser, people and carts can be safely let through on the low-floor rail (approx. 40 mm) without stopping conveyance.

EcoElectric Turn unit

By combining EcoElectric Turn Unit, workpiece can flow in a different direction.
*ETR90 for 90° turn and ETR180 for 90°/180° turn.

Options

A variety of purpose-designed options available.
For details, please see "Options".
Stand

Stand to support a conveyor. The quantity varies depending on the conveyor length. Comes with height-adjusting bolts.

Anchor bracket

Bracket to secure a conveyor stand on the floor.

Stop stay

Mounting stay for EcoElectric Stop. Standard unit has 2-4 pcs depending on the conveyor length. Additional stays available if required.

Deceleration sensor unit

[Two-speed control]
A set of sensor and bracket to identify the decel kick-in position. The sensor is mounted sideways to avoid contamination by oil and dust.

Pallet detection sensor

A set of workpiece presence sensor and bracket: looking upward to detect pallet presence from below.

Pallet detection sensor

A set of workpiece presence sensor and bracket: looking from the side to detect the workpiece presence on the pallet.

I/O Terminal unit

I/O terminal to actuate EcoElectric DC conveyors and other EcoElectric series units via M12 cables. Comes with a dedicated bracket.

DCDC Converter

Converts unstable power supply to stable 24V to avoid voltage drop due to long wiring over 10 m.

Antiback unit

Prevents the pallet from bouncing backward after stopped by the stop.

Guiderail with rollers

The guide with rollers ensures smooth transfer of a pallet that has no rollers on four corners. (Standard guide has no rollers.)

Pinch roller

Pinch roller facilitates smoother conveyance when added between rollers of the roller unit.
Inquiry
Check this out to inquire later.
Contact
For more information, please contact us.