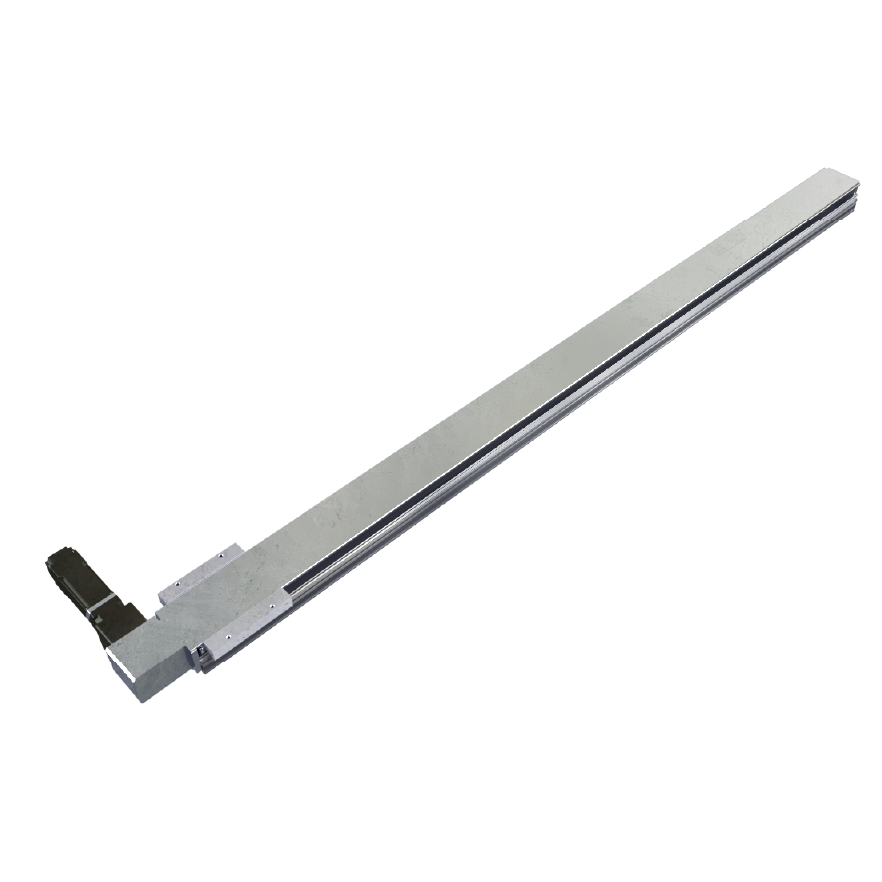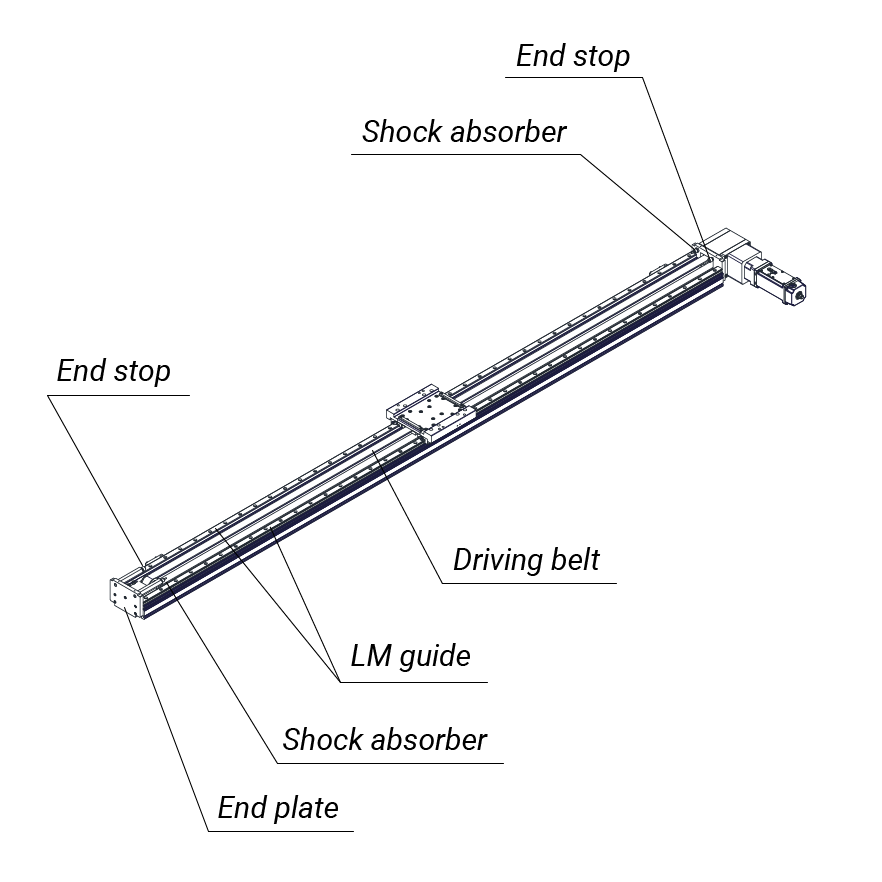 EcoElectric Slider
ESLV20 belt driven
Electric slider driven by 24VDC only without the need for dedicated driver. (Belt driven, supporting 220 to 2,020 mm stroke.)
---
No-frills unit with no cumbersome setting or adjustment by focusing on functions required for the production line.
---
[Relevant Product]
ESL30 series: Ball screw type, for 200 to 900 mm stroke.
ESL6TV series: Ball screw type, for 721 to 920 mm stroke.
View more
Main body
Stroke
220 mm to 2,020 mm
Product weight for each stroke (approx.)
[Stroke]: [Product weight]
280 mm: 16.2 kg
400 mm: 17.6 kg
520 mm: 19.0 kg
760 mm: 21.9 kg
940 mm: 24.0 kg
1,120 mm: 26.1 kg
1,300 mm: 28.2 kg
1,480 mm: 30.3 kg
1,660 mm: 32.4 kg
1,900 mm: 35.2 kg
2,020 mm: 36.6 kg
Size of body
W: 401.8 mm
L: stroke + 434 mm
H: 90 mm
Thrust
200 N
Lateral weight capacity (reference)
10 kg
Speed rating (reference)
50 mm/sec to 200 mm/sec
Shock absorber maximum absorbing capacity
3 J
Power source
Model
Motor module: [EDM20]
(HIRATA BLUE MOTOR is built in.)
Voltage rating
24VDC ± 10%
Output rating
20 W
Standby power
0 W
Current rating
1.2 A (rms)
Max current
2.6 A (rms)(typ.)
Instantaneous maximum current
4.0 A (peak)
Dedicated controller
Not required
Connector spec
M12 connector (male)
4 pins:
(1) -
(2) 24 V [CCW (BWD)]
(3) 0 V
(4) 24 V [CW (FWD)]
Safety Precautions
Please perform risk assessment before use to determine the guarding requirement as it depends on specs and environment of the end user.
Main body

Main body

(Upper cover is removed.)

Motor module
Two-speed control

[Horizontal application]
By installing a sensor, the unit can be controlled to decelerate in the middle of motion and stop gently.

Two-speed control

[Vertical application (moving down)]
When lowering with a heavy load, apply the control mode for lowering.

Speed channel [CH]

Operation speed can be changed by adjusting the speed channel on the motor module (nine levels between CH1 and CH9).

Manual lock release

Manual lock can be easily released by loosening the lock release bolt, shifting the slider, and re-tightening the bolt.
Inquiry
Check this out to inquire later.
Contact
For more information, please contact us.